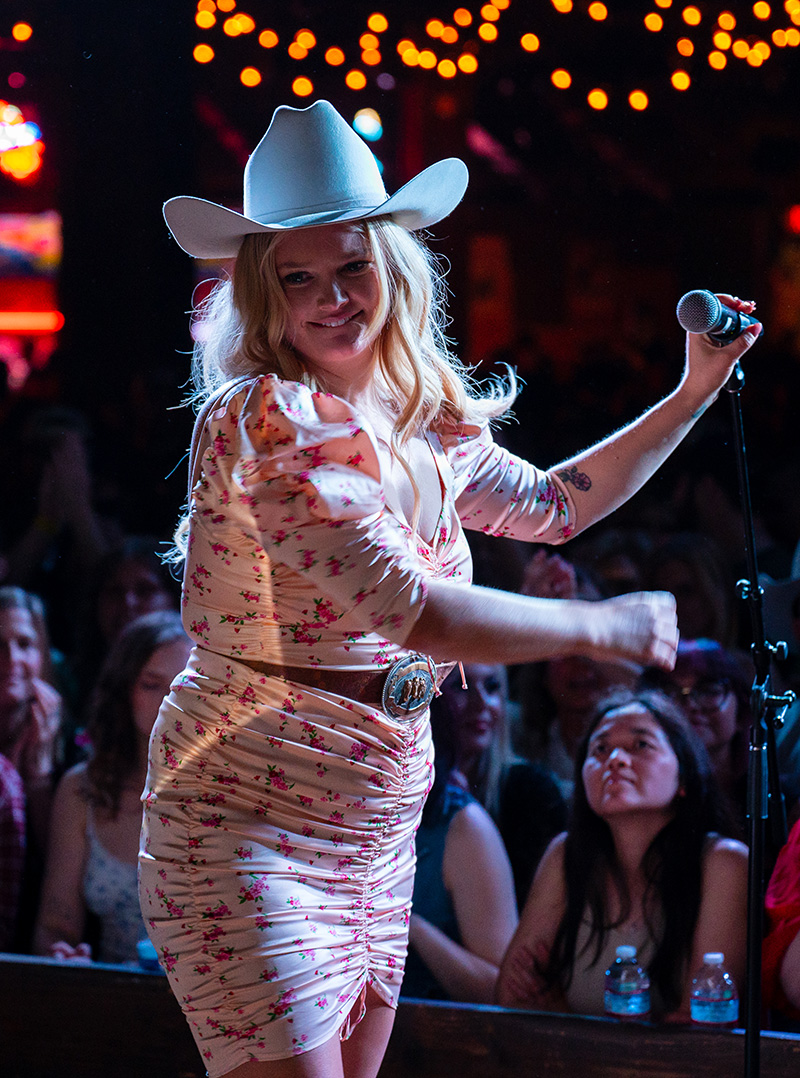 Coming from Iowa, and not a musically inclined family. Her mom taking her out to Nashville to "see" what the music industry is all about. The trip to the Grand Ole Opry turned her into the musician she is today. One night, thinking she was going to head back home and call it quits…. decided to buy a ticket to the Opry to see if it was going to revive the drive to be the artist she is today. Best thing she ever did!
Getting to open for Maren Morris, Brothers Osborn chatting about her on a red carpet, now look what she's accomplished up to today!  Getting to go on the road with Jon Pardi as well as the boys of Midland! Sounds like a complete party to me! May, just around the corner… getting to go out on the road with the one and only Shania Twain!!!
10 Year Town… definitely was played at the Opry debut! Then, the norm after your Opry Debut… y'all head over to the Nashville Palace to celebrate. FYI, if you want to catch the after party… head there 🙂
16 years in Nashville with the grind… Listen in to get to know Hailey Whitters!
Learn more about:
Hailey Whitters
Website: haileywhitters.com
Facebook: @haileywhittersmusic
Instagram: @haileywhitters
This Iowa-born, Nashville-based rising country star scored her breakthrough moment in 2020 with the release of her self-funded debut album THE DREAM, which was praised as "the year's deepest country album" (The Washington Post) and went on to appear on more than 15 year-end best of lists including #1 on both Stereogum's "10 Best Country Albums of 2020" and Garden & Gun's "Best Southern Albums of 2020" list. The subsequent deluxe album LIVING THE DREAM found Whitters' self-fulfilling THE DREAM's prophecy and enlisting her friends and collaborators Brent Cobb, Jordan Davis, Hillary Lindsey, Lori McKenna, Little Big Town, and Trisha Yearwood to appear on five new songs, leading NPR's Fresh Air to call her "one of the most interesting voices in country music." In 2021 alone, Whitters toured with Luke Combs and Midland, was named the inaugural Opry NextStage Artist of the year, scored her first CMT Music Award nomination for "Breakthrough Video of the Year" ("Fillin' My Cup" feat. Little Big Town) and received her first GRAMMY nomination for Song of the Year for "A Beautiful Noise," which was written by Ruby Amanfu, Brandi Carlile, Brandy Clark, Alicia Keys, Hillary Lindsey, Lori McKenna, Linda Perry and Hailey Whitters, and performed by Alicia Keys and Brandi Carlile. Now boasting over 75 million streams across her catalog, Whitters will embark on her debut headline Heartland Tour this winter and released her highly anticipated second album RAISED on March 18, 2022 via Pigasus Records/Songs & Daughters/Big Loud Records.