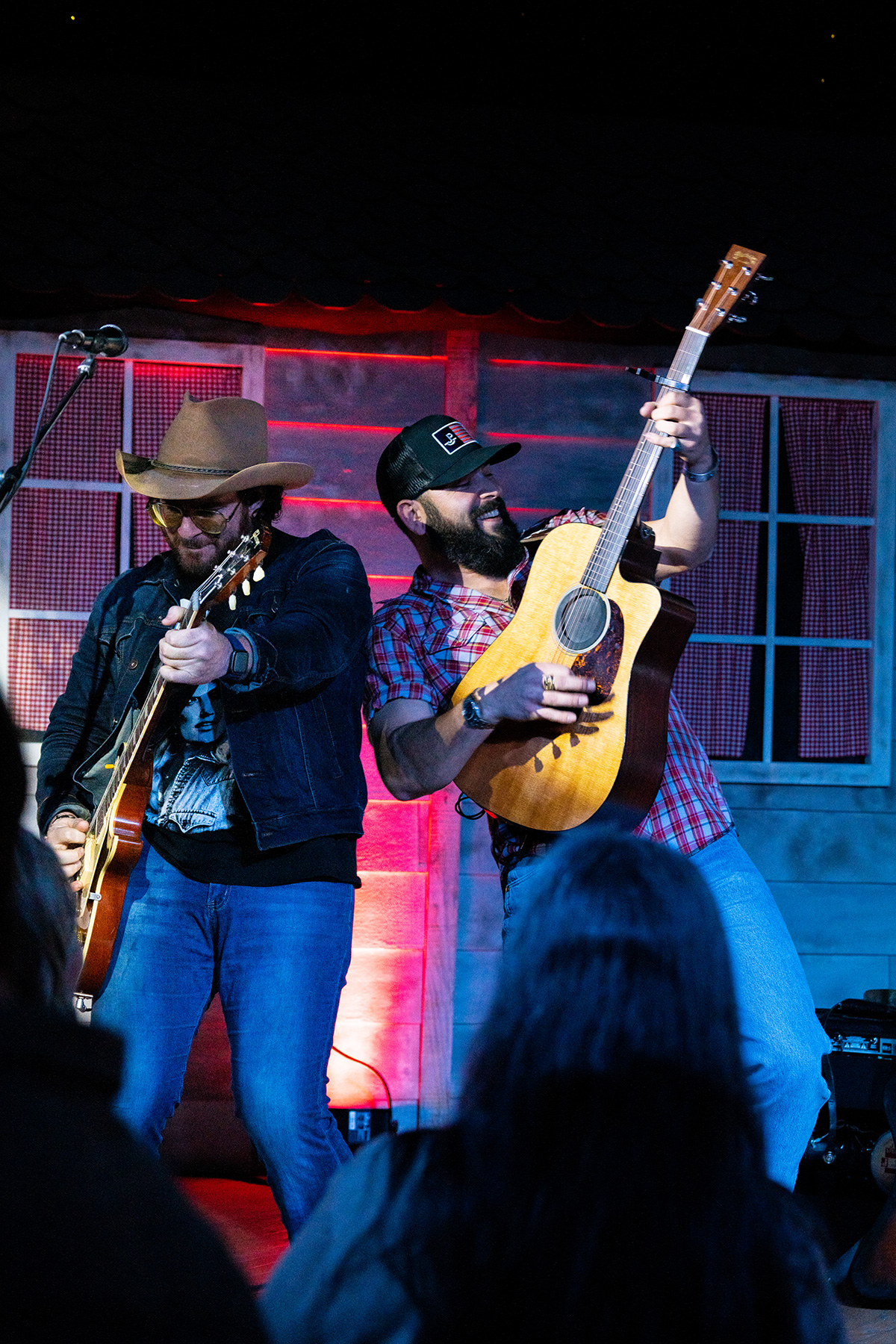 Finally getting to sit down with the guy behind The Whiskey Will, Joe Peters and I hashed out the music talk, traveling as a musician, having a "regular job" and finally growing into becoming a full time artist. Talking industry, growing as an artist with getting to play on bigger shows with bigger artists, making it all come full circle with the grind.
Living in the uncomfortable zone, a great way to look at growth in the music industry that might actually be something that translates into everyday life. Playing with Tim McGraw, singing the national anthem at Dodger Stadium, more music around the corner… learning the difference in dropping multiple songs vs peppering in tunes on a somewhat regular basis, the industry is ever changing.
Future goals… hitting the road with artists like Cody Johnson, rodeo backgrounds align.. seems like a good fit. Had some fun with Waylon and Randy Houser, talkin' the need or the lack there of a setlist, talked about the writers Lynn and Tammi Hutton, dropping some new tunes… end March of 23! Can't wait!
Learn more about:
Joe Peters
WEB: www.joepetersmusic.com
Facebook: @joe.peters.14
Instagram: @joepeters_music
Joe Peters was born in the Country Music Capital of the West, Bakersfield, California. In his youth and early 20s, Joe could be found competing in rodeos, team roping, as well working on the family ranch, playing his guitar and singing. At age 8 he received his first guitar and started playing along to some of his favorite artists, including Waylon Jennings, George strait and Merle Haggard. That same year, Joe competed in and won his first rodeo. As Joe grew in stature to 6'5" in his teenage years, he switched his focus from riding rough stock to team roping. During this time Joe began to further hone his craft of singing, playing the guitar and songwriting, playing for anyone who would listen on the rodeo grounds after competitions. Joe was finding success roping regionally, traveling all across the West, until a catastrophic accident, when his horse rolled over on him while preparing for competition.
With a long recovery ahead, Joe dug deeper into his music. After writing his first song, he recorded it at American Sound Recording Studio, which has now become the Bakersfield Music Hall of Fame. Also, during that time, Joe found a new friend, Justin Pensinger, a fellow roper. Pensinger got Joe back in the saddle and helped him through his recovery and regaining his skills, until eventually they became best friends, as well as team roping partners, and soon they were back out on the road. In 2013, the pair qualified for the American Cowboy Team Roping Association (ACTRA) National Finals. As the two were traveling all around the region, Joe would find every open mic night he could along the way. Joe said in a recent interview "The music bug had really gotten under my skin at that point, and that's all I wanted to do was play, sing, travel and rope!" Then, out of nowhere, another tragedy struck that brought everything to an abrupt ending when Joe's best friend and roping partner died in an accident in 2015. Joe sold his horse and walked away from everything he had loved and began working the family business.
In 2017, with the strong urging of his cousin, Jake (who had newly learned the guitar and now plays in Joe's band), Joe started playing in local bars, until eventually Joe was pulling in 400-500 people to see him. In 2019, a trip to Nashville sealed the deal for Joe. "The magic of the Music City really got me good", he said. While sitting on the laundromat floor at the Holiday Inn, he got out his pen and paper and the words just started pouring out, and they haven't stopped since. Joe released his first EP of original songs in 2020. In 2021, he began working with some of Nashville's best songwriters and recording in Nashville and will be releasing new music soon! The signature JP brand you see Joe wearing is the brand of his late roping partner, Justin Pensinger, that Joe wears to honor Justin and keep his memory alive. Joe is also roping again, but now it's just for fun!