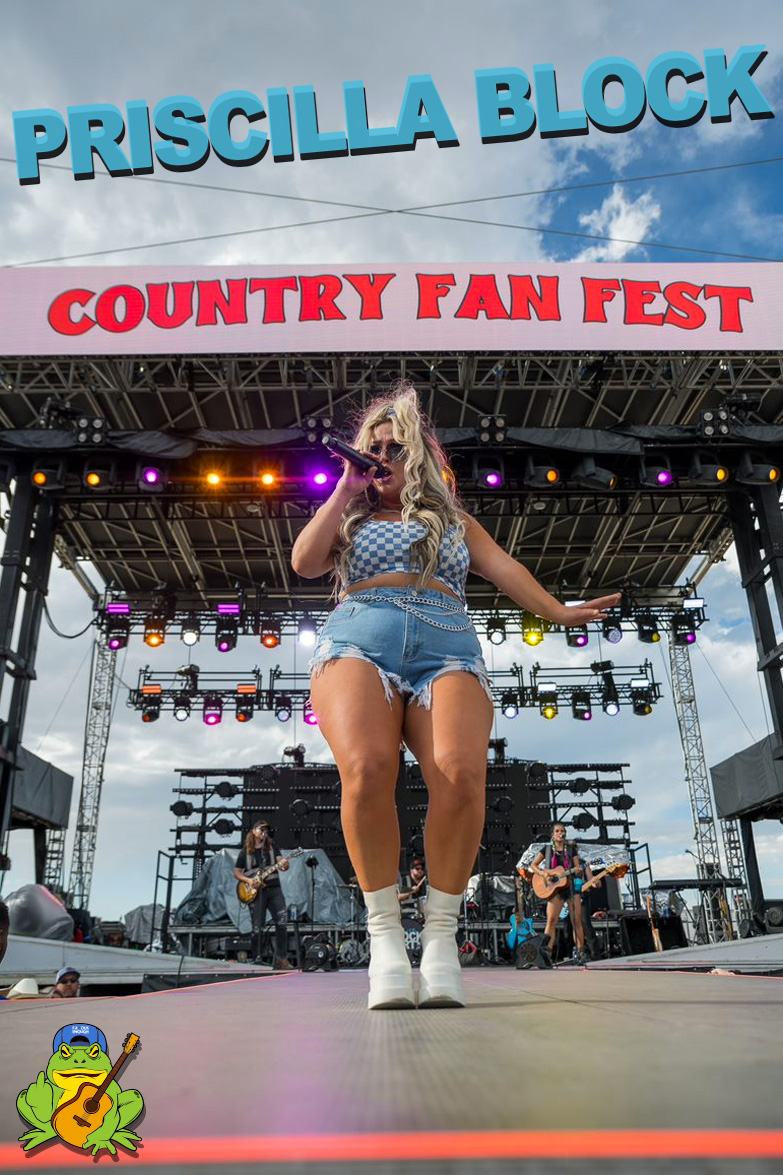 *** We'd like to preface these interviews with the recordings were done in a metal box without a lot of help from the walls and might not be 100% podcast quality, but the content is definitely epic ***
Priscilla Block and Toad hangin' out in Tooele, Utah for 2023's Country Fan Fest. We get to find out where it all started from being born in California to getting to Nashville! The hustle and the struggles of being a new artist in a new city not knowing a soul. Priscilla did whatever she had to do to survive in a town where she knew nobody. Rent was due, she'd find items on the side of the road and she'd sell, spent very few hours on Broadway but knew yet again that rent was due. I personally love the fact that she was the grind to get to where she is today!
Playing in the entrance to Opryland for 6 hours honing her craft, learning just how to be the artist she has become today! We talked about her favorite covers from out on the road to her guilty pleasure tunes in a karaoke bar with friends! You might be surprised! We talked Wheeler Walker, and just being who you are! An important piece to who Priscilla is today!
Her favorite song that she has been a part to date…
Learn more about:
Priscilla Block
Website: @priscillablock.com
Facebook: @PriscillaBlockMusic
Instagram: @priscillablock
"This is me," says Priscilla Block. "Love it or leave it."
It's that kind of attitude towards life, and her fearless music-making, that has made the rising country star one of the genre's most exciting new artists and one of its most authentic and relatable voices. One part endless party, one part unmitigated honesty, and one part best friend who always gives it to you straight, even when it hurts, Priscilla's debut album, Welcome to the Block Party, finds an artist who is redefining 'three chords and the truth' for an entirely new generation.
Though she came to prominence in 2020, Priscilla's rise has been years in the making, full of hard work, long hours, and country grit. Originally from Raleigh, NC, she moved to Nashville to pursue music shortly after high school after being encouraged by her mom to pick up the guitar when she found one in the attic of the house she shared with her four siblings. "I auditioned for every single singing show," she remembers with a laugh. "Then as soon as I could leave town, I packed my bags and moved to Nashville."
Nothing went right at first: her house was broken in to more than once, and she wasn't yet old enough to even get into bars to perform or attend songwriting rounds–it was discouraging to say the least. It was while working at a yogurt shop, taking classes in the evening, and reaching what she thought may be her final straw of misfortune in town, when things suddenly changed: Taylor Swift drove by, spotting Pricilla wearing one of her shirts, she pulled over. "Taylor was like, 'hey, I love your shirt so much, thanks for supporting me,'" Priscilla remembers fondly. "I went to class that night and I decided that I really needed to give music a proper shot. I quit my job and school that night."
From then on, Priscilla dedicated every waking hour she could to songwriting. She built a close group of collaborators –including her roommate Sarah Jones –and even made a fake booking company to try and secure the band gigs around town. She played outside of Bridgestone arena during big concert nights, and "the hustle was at an all-time high," she says, nannying, dog walking, and selling goods on Craigslist just to pay the bills. "Anything I could do was how I got by."
Priscilla and her band were gaining some momentum when they got a brutal blow, along with the rest of the world –the Covid-19 pandemic hit, and she was stuck on lockdown. She had been writing songs nonstop before March 2020, but she'd never quite thought about sharing them explicitly on social media until the pandemic hit. Having moved out of her apartment into a house shared by random Craigslist roommates, she needed something to fill the dreary days.
TikTok, while thoroughly driving pop culture in myriad ways, had not yet made inroads with a country fanbase: until Priscilla came along. When she started posting songs like "Thick Thighs" and "PMS" in the middle of lockdown, to continue to share her music with her fans, she would never have imagined that she would soon top the iTunes Country and All-Genre song charts.