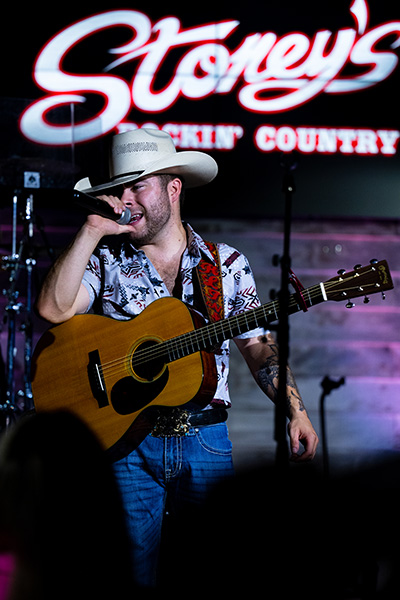 Toad and Triston talk riding bulls, growing up in Houston, Cody Johnson, fun nights in Vegas with strip clubs, Ricenbaw… Touring with Randall King, his first out of town show, we talked about new music… recording an entire album and scrapping the entire thing! We talked about the fun behind the single "Darlin" and getting called out on twitter. <—– Great Story!
Triston gets into writing songs with his mom, knowing her dream was to be an atist, was on Nashville Star, and now lives in Nashville doing hair and spending some time at Luke Bryan's! Ricenbaw has NEVER been to Nashville, might be afraid ha ha… says he's more "Red Dirt". I think a weekend in Nash with Triston and Toad might be what the Dr. ordered! Triston's bucket list is a little… um… ya, he's always wanted to go to a pool party in Vegas… so why not hook him up at Virgin / Elia Beach CLub
Triston and Randall had a 90's Country "contest" while on the road… Randall might have stolen a couple tunes in the game… it'll make sense 🙂
Ronnie Dunn and Triston Marez's single "Where the Neon Lies" is getting released this month on Dunn's album, it's written by Triston and is his first cut as a wwriter to be released at this level!! Pretty bad ass!
Learn more about:

Triston Marez
WEB: www.tristonmarezofficial.com
Facebook: @tristonmarezmusic
Instagram: @tristonmarez
Houston native Triston Marez makes forthright country music that nods not only to his Texas roots, but also to his adopted hometown of Nashville. It's a modern sound steeped in the golden age of '90s country, a decade whose southern storytelling and larger-than-life hooks left a permanent part on the young songwriter.
That sound is whittled to a razor-edged point with 2021's self titled LP Triston Marez. Produced by David Dorn and Alex Torrez, the album strikes a balance between youthful enthusiasm and focused maturity. Marez co-wrote nine of the album's twelve tracks, with modern-day legends like Chris Stapleton penning the remaining songs. Another legend — '90s country kingpin Ronnie Dunn — appears on "Where the Neon Lies," turning the song not only into a show-stopping duet, but also a nod to the next generation of melodic, story-driven country stars. Triston Marez may be making contemporary music, but he's doing so with the influence — and the support — of the icons who came before him, singing songs like "Day Drinking" and the Tejano-influenced "Texas Swing" cowritten with Americana Critics Favorite Gabe Lee (featuring the Tex-Mex band Squeezebox Bandits) with an ease that belies his young years. Laced with Telecaster twang, swooning pedal steel, dancehall ballads, and honky-tonk anthems, Triston Marez is a battle cry from an artist who bridges the gap between modern country and the genre's old-school classics.