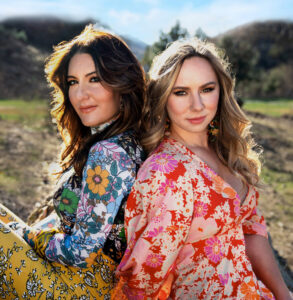 Honey County and Toad talkin' Des Moines, County Fairs, "Scenes", Eric Church, the Urban Juicer, Superbowl halftime shows and more while in Las Vegas at Stoney's Rockin' Country!
Learn more about:

Honey County
WEB: www.honeycounty.com/
Facebook: @honeycounty
Instagram: @honeycounty
Formed in Los Angeles, the band also has roots in the Bible Belt (where founding member Rose sang her first songs as a Virginia native) and Texas (where Lynn fell in love with country music while studying nursing at Baylor University). That diversity is reflected in Honey County's music, a blend of contemporary country and timeless pop/rock that makes room for Nashville twang, West Coast harmonies and everything in between. You won't be able to find Honey County on a map — instead, Rose and Lynn create their own musical landscape: a place where the songs are anthemic, the harmonies are soaring, and two empowered women run the show.
It's a sound that's taken Honey County around the world, from international shows in the Middle East and Africa to performances at American festivals like Stagecoach and CMA Fest. Along the way, they've earned raves from Rolling Stone Country (whose editors named Honey County one of "10 new country artists you need to know"), the LA Times (who rallied behind the resilient anthem "Country Strong," which Honey County performed alongside 150 line dancers at Stagecoach 2019 in commemoration of the lives lost at the Route 91 Harvest Festival) Billboard and People Magazine. Their songs have been featured in NFL commercials, HBO's True Blood, CW's Roswell and three episodes of Yellowstone (with "Cigarette" appearing in the show's Season Three premiere), as well as curated playlists on Spotify (New Music Nashville, CMT's The Roundup) and Apple Music (Cool Country, Hot Tracks). With support from radio outlets (Radio Disney Country, KFROG, and Go Country 105) and a string of opening slots for country hitmakers (Lady Antebellum, Thompson Square, Old Dominion), Honey County has left its unique mark onstage, on-air and in the recording studio.